Manifold and unique. That´s how you will remember moments that you have spent in the High Tatras.
The region of the Tatras will mix the best cocktail of emotions for you. You will fall for inaccessible peaks and cool waterfalls, recharge your batteries at a peaceful surface of a glittering tarn and enjoy a feeling of harmony and flawless satisfaction.
Enjoy romantic walks along zigzag tourist trails and taste various national specialities at sunset. Delicious home-made meals and ingenious creations of real masters will guarantee great moments of unique flavours and culinary pleasure.
You will love the taste of the Tatras!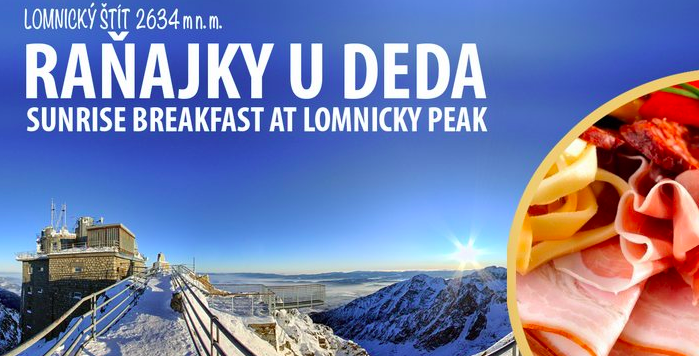 World-class coffee above the clouds
Take a comfortable cable car to the "roof" of the Tatras and enjoy unforgettable moments in a location where everyday problems fade away in high altitudes. Is there anything more romantic than breakfast on top of Mt. Lomnický štít?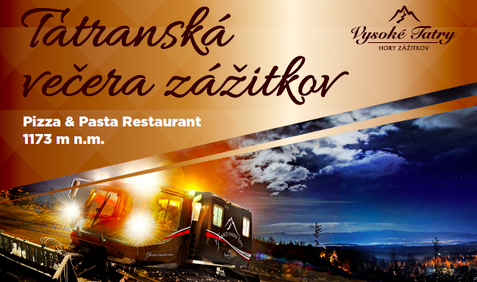 Tatra dinner of experiences
Take your taste buds to the clouds and spend an unforgettable evening. Because real Tatra adventures begin after dark.
Feast your eyes on the beautiful mountain scenery at the altitude of 1,173 metres and discover delicious tastes of a 5-course menu served in a magical atmosphere at candlelight. If you wish, you can order wine tasting as well.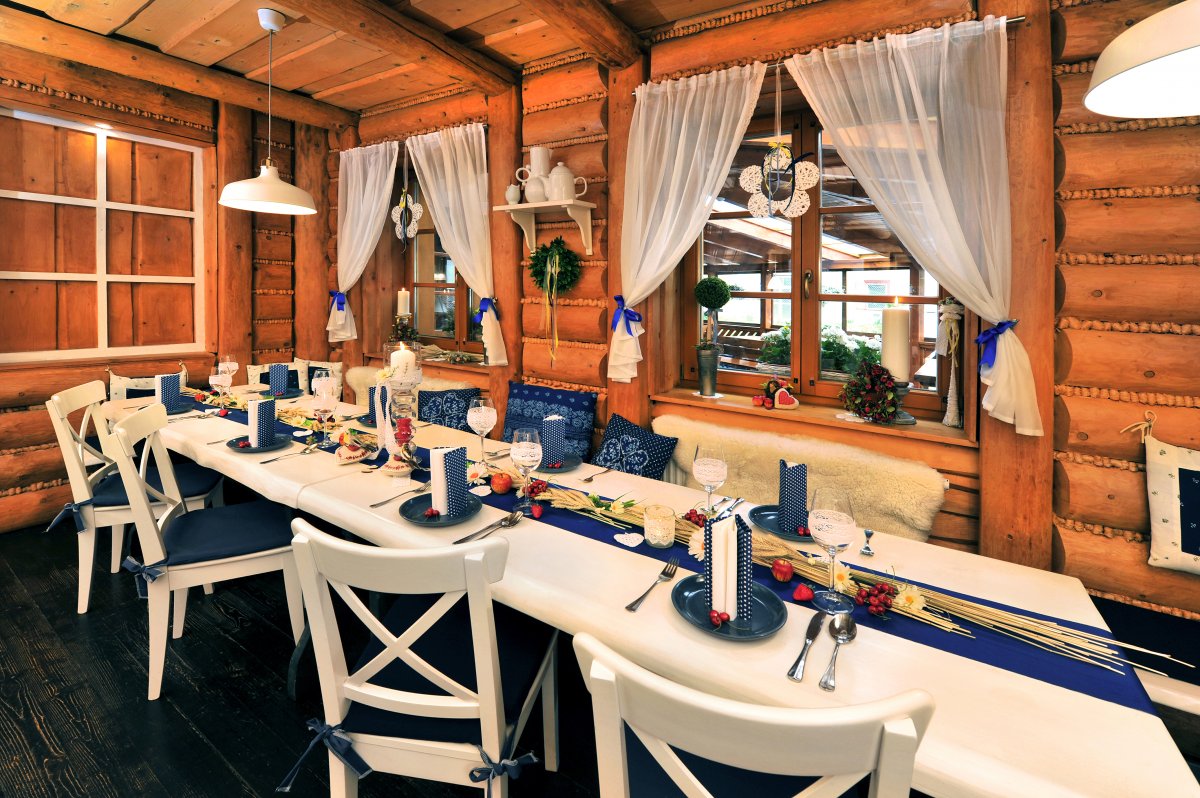 Manifold culinary pleasures
Traditional but willing to make experiments, simple but with a touch of originality – many elegant or authentic Tatra restaurants offer matchless experiences for gourmets. A pleasant atmosphere and best specialities guarantee complete satisfaction. Enjoy delicious food there!

Rich history of Tatra hotels
The turn of the 19th and 20th century was a specific era in Europe, called La belle époque in France, i.e. a beautiful era. Modern aristocracy was living happily, they had enough money and tried to spend a part of their life in the most pleasant way possible.
Architects created a luxurious style adequate to the time – Art Nouveau. You will love its jewels that were built in the Tatras. Their rich history combined with healing effects of Tatra nature guarantee flawless pleasure even for the most demanding clients. Thanks to their majestic and charming character, they have been proud to welcome many significant personalities.
Let the magic of history enchant you and treat yourself to unique relaxation in an atmosphere of age-long luxury..
wunderschöne Landschaft und freundliche Menschen Dankeschön
Georg Horn
Great place!!!!!!!!!!!!!!!!!
Otto Katona
One of the most beautiful places! We keep coming back! Insider Tipp: Enjoying a meal at Restaurant Fortuna in Spisska Sobota! Small and totally unexpected, but they would deserve a michelin star or at least a falstaff voting
Miriam Bentfeld
bellissimo e perfetto per gira in famiglia
Giuseppe Ganci
This is the most gorgeous place - an undiscovered paradise with very reasonable prices. We had so much fun rowing a boat at Stary Pleso, hiking the mountains, and eating pierogi at the Grand Hotel Kempinski. The air was clean and you could see stars shining so brightly in the night sky. In the evenings, colorful thunderstorms would roll through and it was just so cozy. We had a wonderful and memorable family vacation here and will be back again.
Krysten Jenci
Megnifico....... beautiful mountains.... .. roads very good condition speechless....
Jacek Baca
Superb view!
Ilona Ilonciks
Nice place. Greatfull nature. Friendly People. I like it.
Kai Stamm
Отдых ........... Природа супер
Яна Рішко
Beautiful place with most beautiful views. Fantastic for active people who like hiking in the mountains.
Ela Sobota
Určite áno, na Slovensku je to naj čo Slovensko má
Patrik Draxler
Hoci sme stihli len Hrebienok, Beliansku jaskyňu, Bachledku a Štrbské pleso, boli sme nadšení a uchvátení. Prekrásna príroda, dobré služby, výborná strava a všade ochotný personál. Už teraz sa tešíme na ďalší pobyt! <3
Jaroslava Bašistová
Je to tam krásný 😁 hodný lidi a je to jen 7 hodin vlakem, super 😍
Zdenka Lébrová
Tatry su moja srdcovka a nech som kdekoľvek vzdy ma nabijú pozitívnou energiou a pozitívnym myslením. Stále mam usmev na tváři ako malé decko a v poslednej dobe mam stále stastie Aj na perfektne pocasie a skvělých ludi ❤️
Livia Laylla Lukacova
Tatry sú krásne a je tam čo obzerať veľmi sa nám tam páčilo, no pre zlé počasie sme všetko nestihli pozrieť tak určite sa tam ešte raz niekedy vrátime. Čo sa nám tam ale nepáčilo bolo parkovanie mali sme problém niekde zaparkovať, keďže tam bolo toľko veľa ľudí.
Lucia Raškovská
The most beautiful place I've ever seen before. I was astonished at this place. I will come back very soon.
Van Sinn
Kľud, pohoda, užili sme si to s rodinou. Poriadne. Hlavne kľud od ľudi-vorkoholikov, ktori sa stále len ponáhľajú a vlastne nič nemajú, lebo nikdy nikde neboli len práca, doma a nič iné. Nevedia si nič užiť, ani vlastný život, ani peniaze pre ktoré by si nechali prevŕtať koleno, len aby im nič neutieklo z účtu. Také chvíle su liekom na všetko. Ticho, pohoda.....na nezaplatenie
Ifbb Marek Leder
Nie nadarmo sa hovorí, že Tatry sú pýchou Slovenska. Krásne miesta, nádherné štíty a príroda.
Martin Lörinc
A hiker's paradise. Trails are nicely groomed and scenery glorious!
Kim Beaudet
Ve Vysokých Tatrách je vždy krásně. Se správnou partou dobrých lidí a dobře zvolenou trasou na výšlap není možné, aby člověk nebyl spokojen. S ubytováním jsme byli pokaždé maximálně spokojení.
Monika Marančáková
Krásně strávené jarní prázdniny. Lyžařské podmínky pro děti byly perfektní. Široké sjezdové tratě, přehledný terén, perfektní služby a moc příjemní lidé. Určitě se sem vrátíme.
Denisa Nováčková
Przepiękne góry, szlaki zachęcające do wędrówek, pozytywni ludzie słowem świetne miejsce na codzień jak i wakacje :)
Piotr Wróbel
Wypoczynek w Tatrach od południowej, słowackiej strony to jednak inne doświadczenia niż w powiecie nowotarskim. Łatwość dojazdu, brak korków, mało ludzi, brak wszechobecnych góralskich bud z wszelkim dobrem, cisza, spokój, swietnie przygotowane stoki, bardzo dobra infrastruktura w zakresie zakwaterowania typu pensjonat (z ciepła woda 24h). Oprócz tego fajni, przyjaźni ludzie.
Michał Frontczak