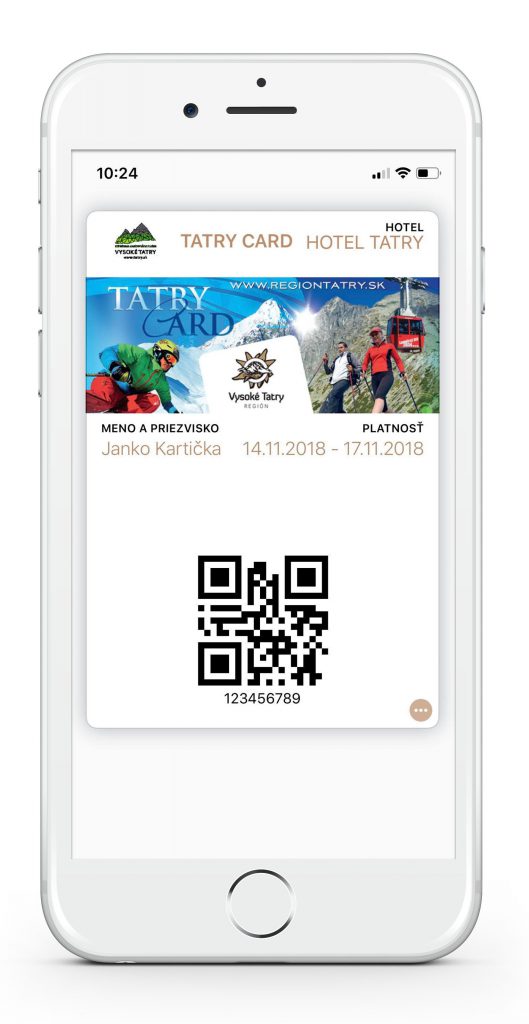 The regional TATRY Card is the key to unforgettable moments and activities that the High Tatras Region offers. Use great ski school offers and rent equipment at reduced prices. Enjoy snow adventures with snow tubing and discover winter beauties in the Tatras in snowshoes with a guide. Visit museums, try a golf simulator and choose from various interesting outdoor and indoor activities. Recharge your batteries in modern wellness centres and taste delicious culinary art in restaurants.
The TATRY Card includes GENERALI insurance for the mountains as well as unlimited ecological transport in the High Tatras with trains of the ZSSK company (Slovak Railways) on the routes of the Tatra Electric Railway, Rack Railway and the route Poprad-Tatry – Studený Potok –Tatranská Lomnica, where the TATRY Card can be used as a travel ticket.
How to get the TATRY Card?

Buy your personal regional card at your accommodation provider. It costs 4 € in facilities located in the High Tatras Region (town of Vysoké Tatry, town of Poprad and settlement of Štrba) and 5 € in the foothills. The TATRY Card is valid during the whole stay of yours. The maximum period of validity of 1 activated card is 3 nights (4 days). If you stay longer than for 3 nights (4 days) or you already have a TATRY Card, you will get another stay activated on your card by your accommodation facility at the same surcharge of 4 € / 5 €.
At the reception of your hotel you will receive a registration form, where you will find the bottom part, which contains two unique QR codes. One of these is for downloading a digital /virtual card into your mobile phone, and the other with the name and date of validity is for those who prefer the paper version or those who do not have a smartphone. The paper version is only for transport and insurance.
Multiple cards can be downloaded into one smartphone. (Father can have all cards of the family in his smartphone.)
How to use benefits with the TATRY Card?

To get discounts you must have a digital card downloaded in your mobile phone. Not applicable for transport and insurance.
Don´t forget to inform the staff in advance and tell them you are a TATRY Cardholder. Discount rates, price reductions, benefits and free services included in the card are specified in the description of each product or service and they are fixed during the whole season. Prices determined by individual service providers are subject to change. Unless specified otherwise, the discounts are available during the whole winter season from 20/12/2018 to 30/04/2019.
Discounts will be available from 24.12.2018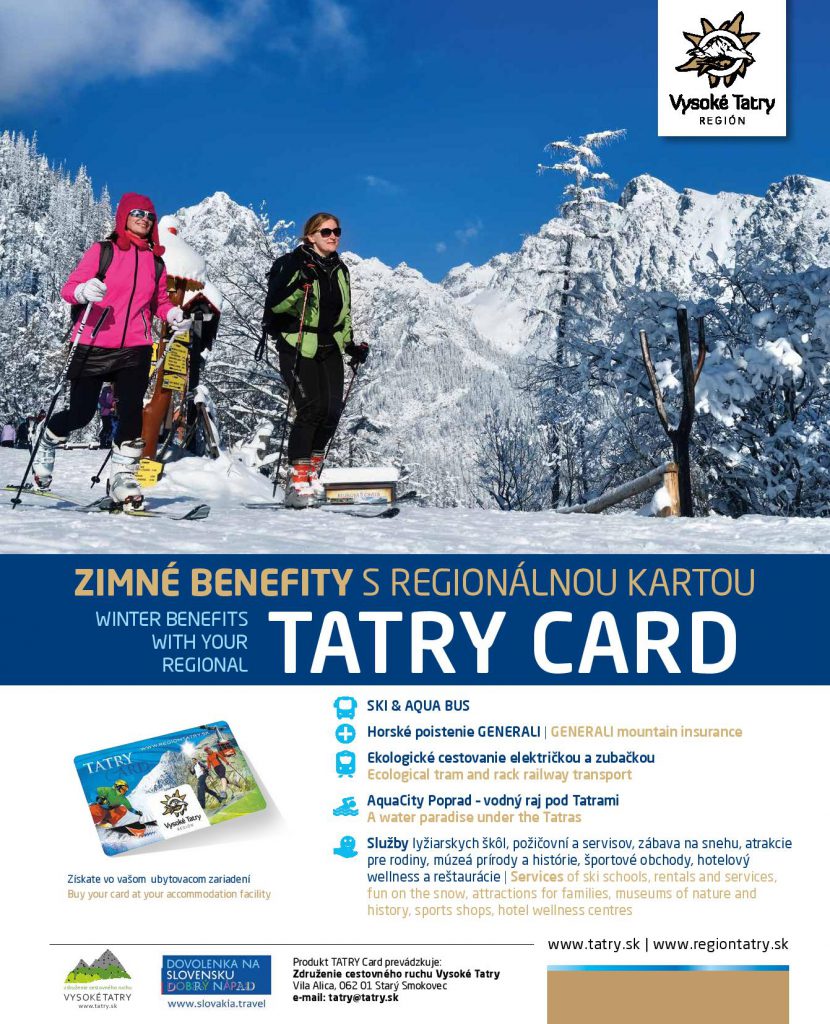 wunderschöne Landschaft und freundliche Menschen Dankeschön
Georg Horn
Great place!!!!!!!!!!!!!!!!!
Otto Katona
One of the most beautiful places! We keep coming back! Insider Tipp: Enjoying a meal at Restaurant Fortuna in Spisska Sobota! Small and totally unexpected, but they would deserve a michelin star or at least a falstaff voting
Miriam Bentfeld
bellissimo e perfetto per gira in famiglia
Giuseppe Ganci
This is the most gorgeous place - an undiscovered paradise with very reasonable prices. We had so much fun rowing a boat at Stary Pleso, hiking the mountains, and eating pierogi at the Grand Hotel Kempinski. The air was clean and you could see stars shining so brightly in the night sky. In the evenings, colorful thunderstorms would roll through and it was just so cozy. We had a wonderful and memorable family vacation here and will be back again.
Krysten Jenci
Megnifico....... beautiful mountains.... .. roads very good condition speechless....
Jacek Baca
Superb view!
Ilona Ilonciks
Nice place. Greatfull nature. Friendly People. I like it.
Kai Stamm
Отдых ........... Природа супер
Яна Рішко
Beautiful place with most beautiful views. Fantastic for active people who like hiking in the mountains.
Ela Sobota
Určite áno, na Slovensku je to naj čo Slovensko má
Patrik Draxler
Hoci sme stihli len Hrebienok, Beliansku jaskyňu, Bachledku a Štrbské pleso, boli sme nadšení a uchvátení. Prekrásna príroda, dobré služby, výborná strava a všade ochotný personál. Už teraz sa tešíme na ďalší pobyt! <3
Jaroslava Bašistová
Je to tam krásný 😁 hodný lidi a je to jen 7 hodin vlakem, super 😍
Zdenka Lébrová
Tatry su moja srdcovka a nech som kdekoľvek vzdy ma nabijú pozitívnou energiou a pozitívnym myslením. Stále mam usmev na tváři ako malé decko a v poslednej dobe mam stále stastie Aj na perfektne pocasie a skvělých ludi ❤️
Livia Laylla Lukacova
Tatry sú krásne a je tam čo obzerať veľmi sa nám tam páčilo, no pre zlé počasie sme všetko nestihli pozrieť tak určite sa tam ešte raz niekedy vrátime. Čo sa nám tam ale nepáčilo bolo parkovanie mali sme problém niekde zaparkovať, keďže tam bolo toľko veľa ľudí.
Lucia Raškovská
The most beautiful place I've ever seen before. I was astonished at this place. I will come back very soon.
Van Sinn
Kľud, pohoda, užili sme si to s rodinou. Poriadne. Hlavne kľud od ľudi-vorkoholikov, ktori sa stále len ponáhľajú a vlastne nič nemajú, lebo nikdy nikde neboli len práca, doma a nič iné. Nevedia si nič užiť, ani vlastný život, ani peniaze pre ktoré by si nechali prevŕtať koleno, len aby im nič neutieklo z účtu. Také chvíle su liekom na všetko. Ticho, pohoda.....na nezaplatenie
Ifbb Marek Leder
Nie nadarmo sa hovorí, že Tatry sú pýchou Slovenska. Krásne miesta, nádherné štíty a príroda.
Martin Lörinc
A hiker's paradise. Trails are nicely groomed and scenery glorious!
Kim Beaudet
Ve Vysokých Tatrách je vždy krásně. Se správnou partou dobrých lidí a dobře zvolenou trasou na výšlap není možné, aby člověk nebyl spokojen. S ubytováním jsme byli pokaždé maximálně spokojení.
Monika Marančáková
Krásně strávené jarní prázdniny. Lyžařské podmínky pro děti byly perfektní. Široké sjezdové tratě, přehledný terén, perfektní služby a moc příjemní lidé. Určitě se sem vrátíme.
Denisa Nováčková
Przepiękne góry, szlaki zachęcające do wędrówek, pozytywni ludzie słowem świetne miejsce na codzień jak i wakacje :)
Piotr Wróbel
Wypoczynek w Tatrach od południowej, słowackiej strony to jednak inne doświadczenia niż w powiecie nowotarskim. Łatwość dojazdu, brak korków, mało ludzi, brak wszechobecnych góralskich bud z wszelkim dobrem, cisza, spokój, swietnie przygotowane stoki, bardzo dobra infrastruktura w zakresie zakwaterowania typu pensjonat (z ciepła woda 24h). Oprócz tego fajni, przyjaźni ludzie.
Michał Frontczak