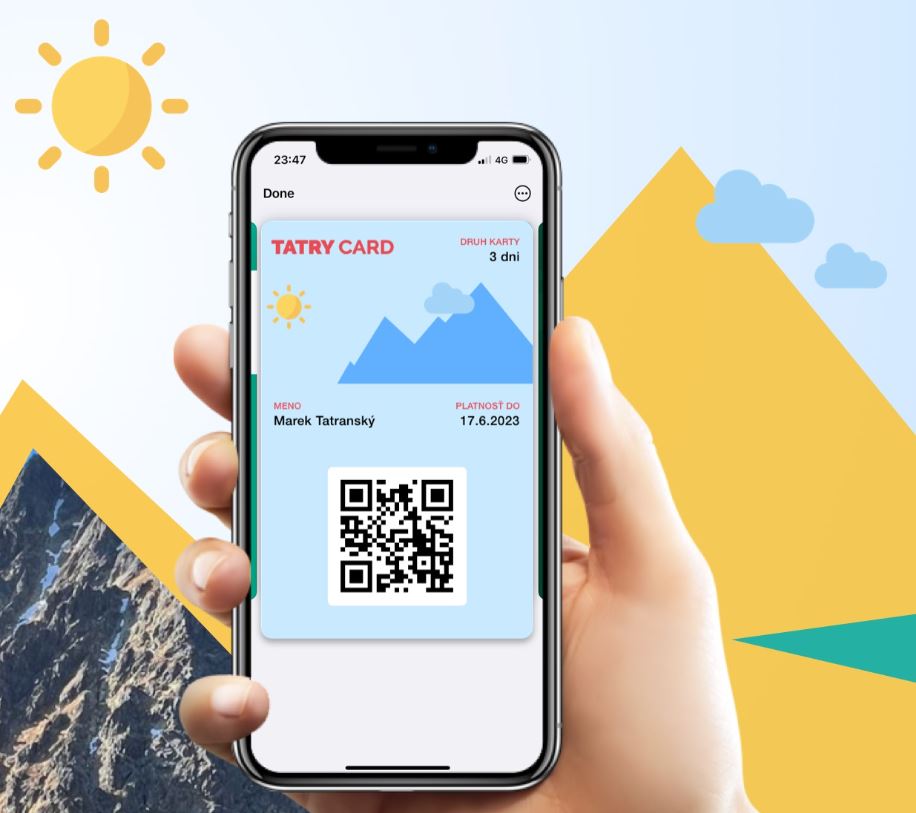 The regional TATRY Card is the key to new adventures and unforgettable moments in the Region of the High Tatras and the best way to "taste" and try various new activities that our region offers. .
The TATRY Card includes unlimited ecological transport in the High Tatras during the card validity period – with ZSSK trains on the routes of the Tatra Electric Railway, the Rack Railway and on the route: Poprad-Tatry – Studený Potok – Tatranská Lomnica, where the TATRY Card serves as a travel ticket. If asked by a member of the ZSSK staff, every Tatry Card holder is obliged to show their card together with their valid identification document.
---
TIPS TATRY CARD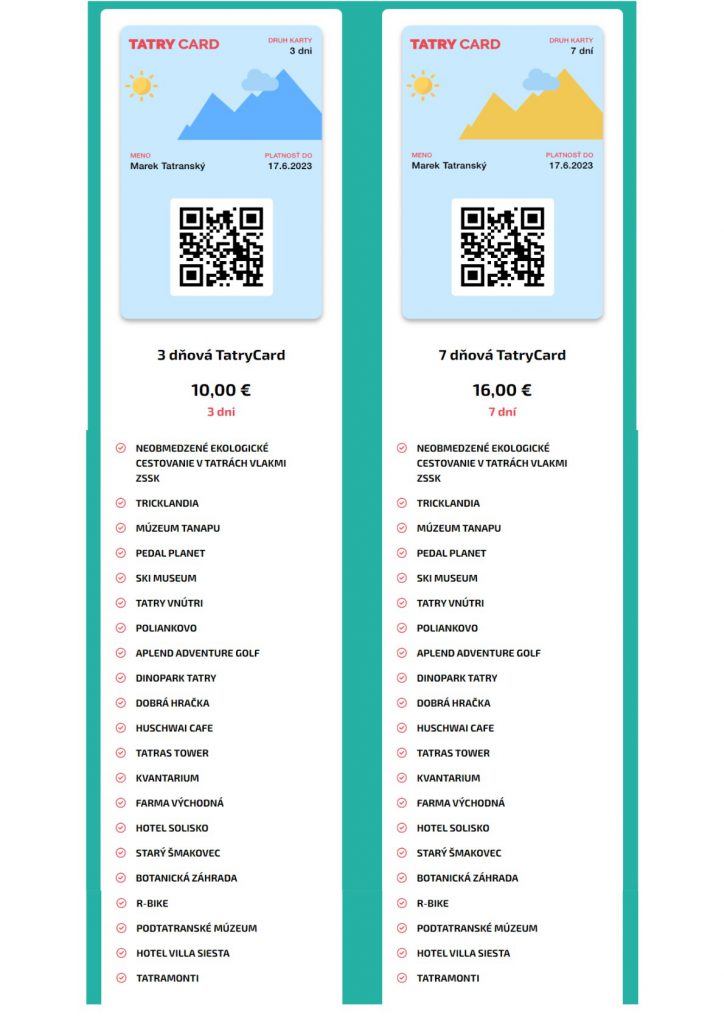 TATRY CARD PRICES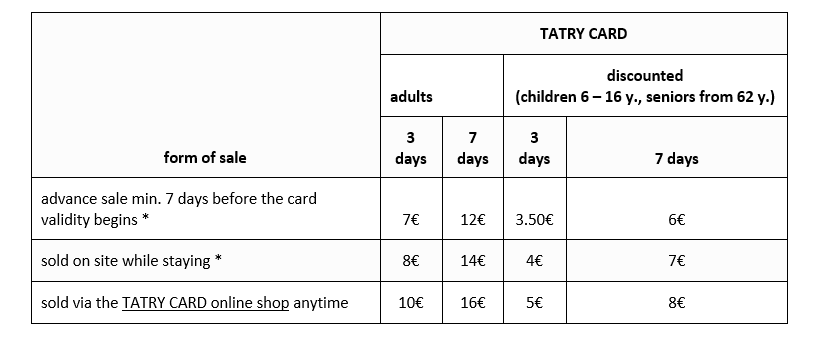 Note:   Discounted TATRY CARDs can be purchased by clients of selected age groups (younger than 16y and older than 62y) who don't have to register to have 100% off travel tickets and can travel with the railways in the Tatras at a better price also without registering.
* TATRY CARDs can be sold by and used only at contractual accommodation establishments: https://tatrycard.tatry.sk/distribucne-miesta
---

How to get the TATRY Card?
Your personal regional card can be purchased at your accommodation provider. Every TATRY Card is valid while you stay at your accommodation establishment for max. 3 nights (4 days) or 6 nights (7 days) once activated. If you stay for a longer time, you can have another card activated by your accommodation establishment at the same charge. At the reception of your hotel, you'll receive a unique QR code to download the digital card version to your mobile phone. How to get discounts with the TATRY Card? To get discounts, you need a digital card downloaded to your mobile phone. Vouchers for individual discounts that you choose can then be downloaded too.

WHERE TO GET THE TATRY CARD?
TATRY CARDs are sold to visitors staying in the High Tatras:
– based on their accommodation establishment: TATRY CARDs are activated in partner accommodation establishments of the Vysoké Tatry Tourism Association (ZCR VT)
– not based on their accommodation establishment: TATRY CARDs are activated by individual customers via the TATRY CARD online shop.
New TATRY CARDs can be purchased in Tatra Information Offices:
– Starý Smokovec – Starý Smokovec 23 – Mountain Rescue Service building, Vysoké Tatry
– Tatranská Lomnica – Tatranská Lomnica 98, Vysoké Tatry
– TATRY CARDs can be purchased also in selected facilities (please find their list HERE or online HERE!
TATRY CARDs can be simply downloaded to mobile phones (Android, iPhone).
---
DIGITAL CARD
The digital membership card uses mobile wallet technological properties. The mobile wallet is a collective term for the Apple Wallet and Google Wallet apps, which are included in all iOS- and Android-operated devices. Although Apple Wallet and Google Wallet/Pay are known mainly as payment card storages and enable contactless mobile payments, they offer much more than only digital payment at cash desks.
HOW CAN I DOWNLOAD MY DIGITAL CARD?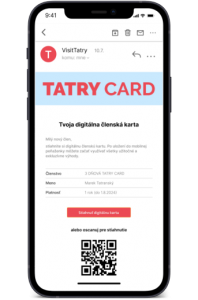 After buying a membership or registering for the membership programme, you will receive an email with your digital membership card and login data for your profile in the system. The card can be downloaded to your mobile wallet easily, with a few clicks only.
Downloading the digital card
By clicking on "Download the digital card"
By scanning the respective QR code
After logging to one's account
When you click on "Download the cars" in the received email or scan the respective QR code, the card will be displayed on your mobile phone. Based on the type of your phone, look for a "Save" or "Add the card to the wallet" option. Click on it. If you are asked by your phone to allow notifications, do it to receive important information in future. If you change your mobile phone, find the QR code to download your membership card again in your profile.
Advantages of using a digital card

Updated information
The digital card updates automatically. So every time you open it, you'll find relevant information, currently-valid benefits and important news from your community. The card can be updated also manually by swiping down.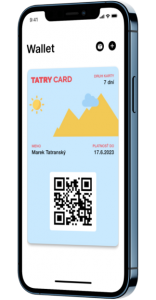 User-friendly
Your digital membership card can be found in your mobile wallet app. If you need to identify yourself as a community member, use the QR code. If you want to check the latest updates, take a look at the back of the card. If you delete the card by mistake or change the phone, your card can be easily downloaded again from your profile in the Memberyo system.
Lots of benefits
Thanks to the digital card, all benefits can be found in one place in your mobile wallet. They can not only be viewed but also used there.
Discounts at partners
With your membership card, it's very easy to use benefits in the membership programme, i.e. discounts, tickets and special vouchers at the programme partners.
---
The regional TATRY CARD is the key to a holiday full of experiences at better prices. Only the TATRY CARD offers various discounts of up to 25% in selected facilities in the Region of the High Tatras.  
Read more about the TATRY CARD and where to buy it HERE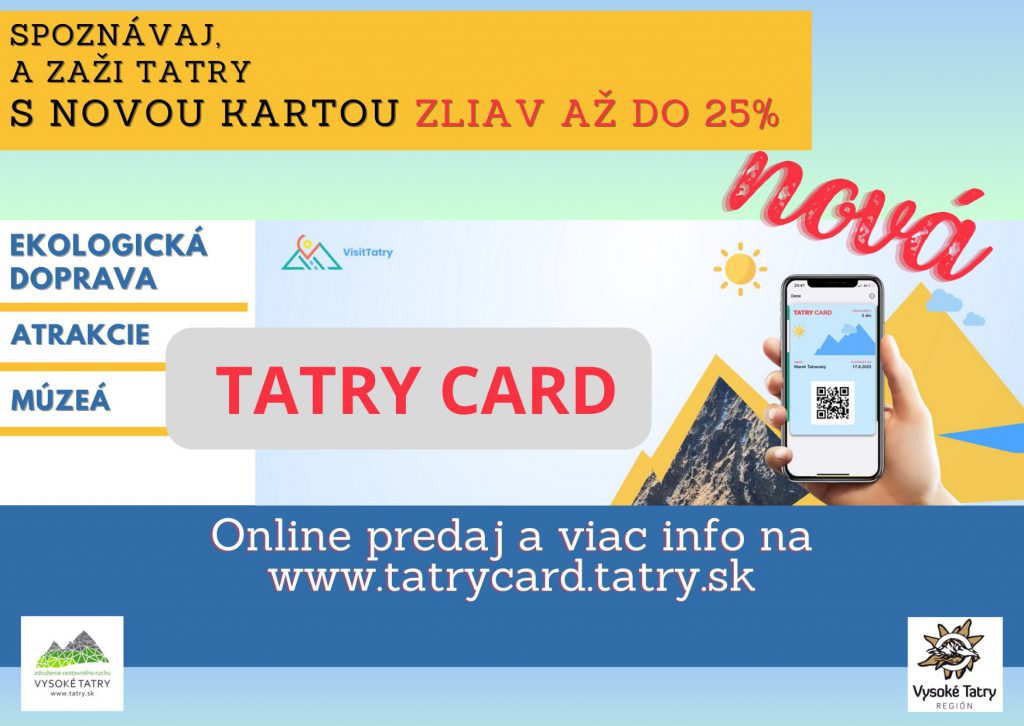 Please send your questions, suggestions and observations by email to:
tatry@tatry.sk,
+421 903 406 800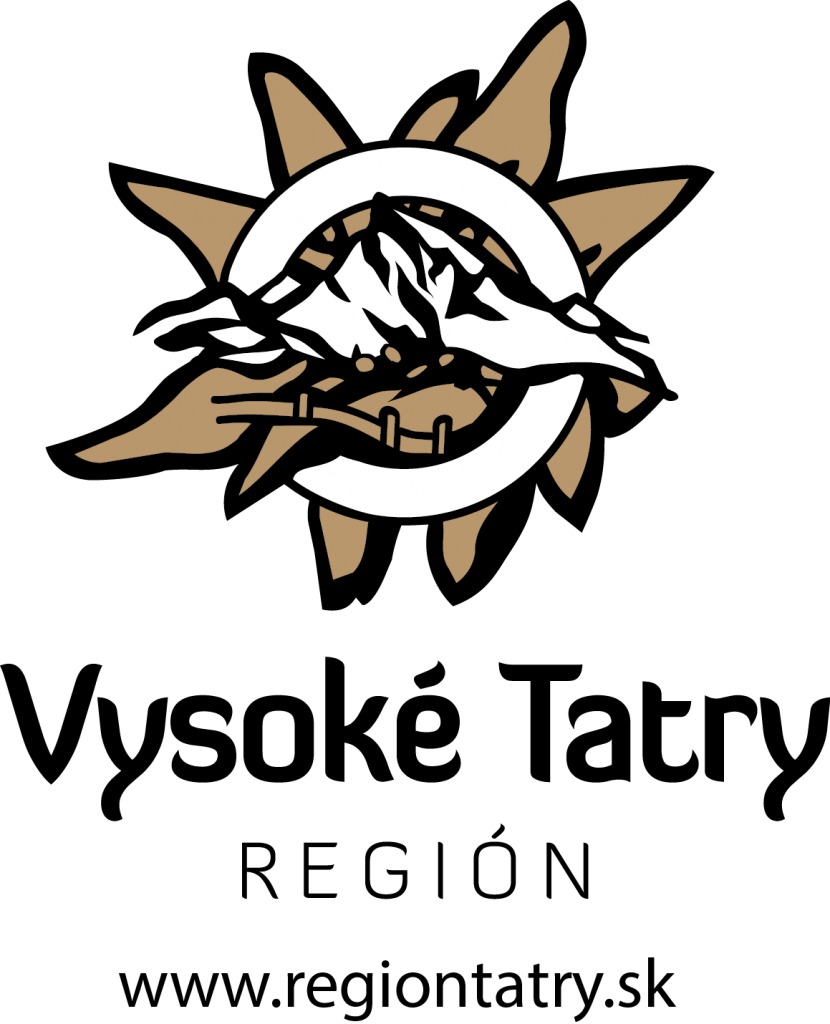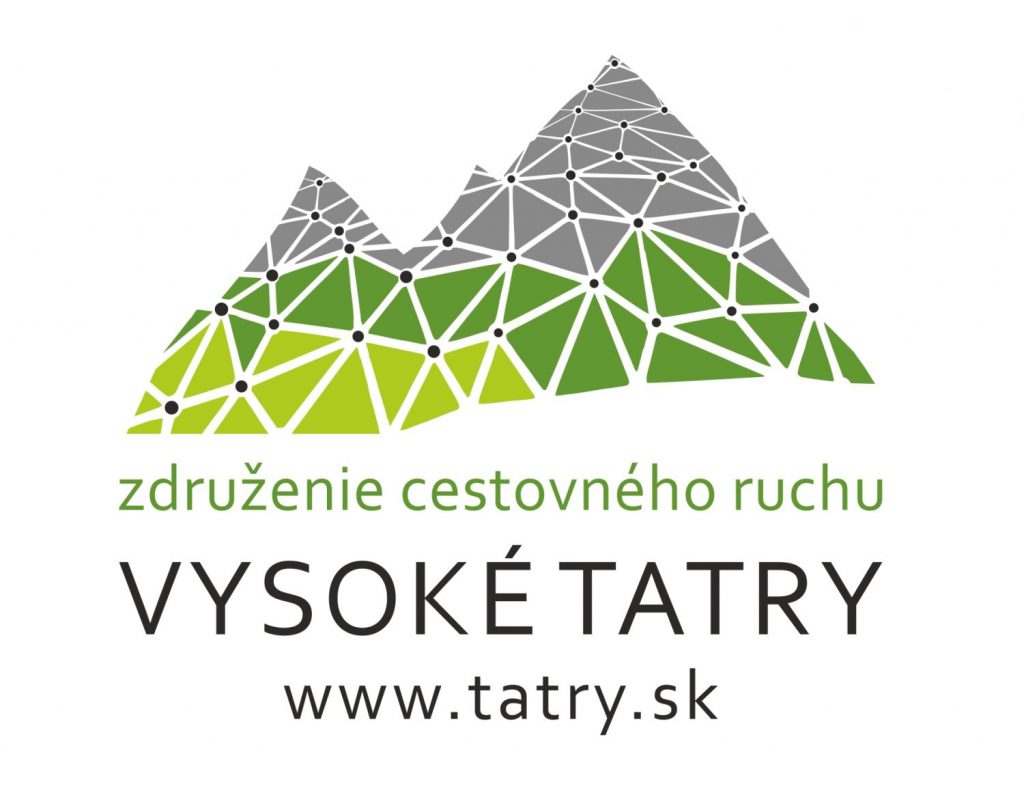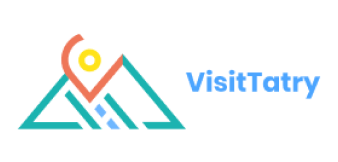 ---