Enjoy a real winter idyll in the High Tatras on skis or without them. There are about 20 km of marked tourist trails in the alpine zone available every winter so that the tourists can enjoy their winter holidays in the Tatras to the fullest.
The seasonal closure of selected hiking trails in the High Tatras lasts from November 1 to June 14. At this time, nature and animals enjoy their winter rest. Above all, higher paths, saddles and shields are closed. However, all trails leading to the alpine huts are open year-round, with the exception of Chata pod Rysmi.
Winter hiking is different from summer hiking of course, mainly as for the equipment and experience that it requires.
The most important things that every tourist should keep in mind:
Check the weather, the snow conditions and warnings (Tatra information offices, Mountain Rescue Service).
Take winter equipment based on the situation and conditions, know how to use it – poles, crampons, ice axe, avalanche equipment if necessary
Take out insurance for the mountains and register in the hiking trip book at the accommodation facility, inform the relatives.
Map of trails that are open all year round and suitable as winter hiking trails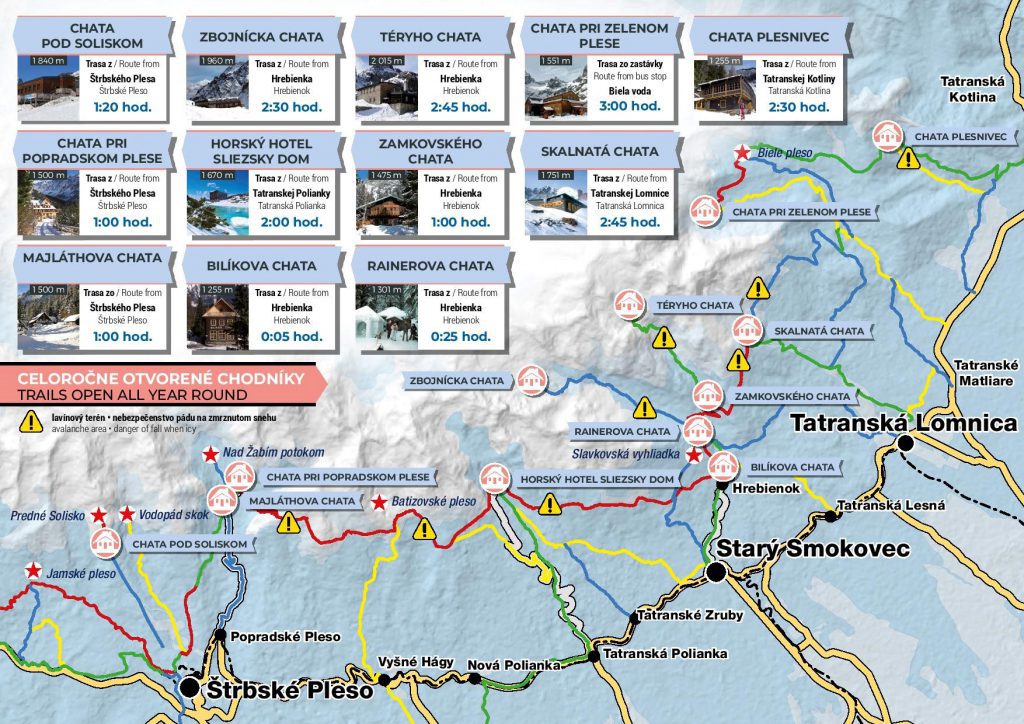 When a trail is open, that doesn't automatically mean it is groomed and safe. Always take the overall situation and your abilities into account and be ready to go back anytime if needed.
Official explanation of the seasonal tourist trail closure:
Selected tourist trails in the Tatra National Park are closed from 1st November to 14th June, when nature is most vulnerable. It's the chamois rut season and the period when the risk of disturbing chamois in dangerous avalanche terrain is higher, plus the sensitive spring nesting season and the period when young animals of several protected species in the Tatras come out.
The Mountain Rescue Service looks after your safety in the mountains. It's very important to follow the laws of the mountains as well as the instructions of the Mountain Rescue Service in alpine terrain. Before you set out for your trip, the best is to check the latest situation in the mountains.
How to get your bearings when hiking in winter? Outside of woodland, markings on stones are replaced with markings on poles.
A nativity scene of snow at Rainer's hut, waterfalls of Studený potok (brook), trips to valleys or romantic walks around a snow-covered winter country – these are only some examples of what the winter in the Tatras offers. Choose what you like most and enjoy.