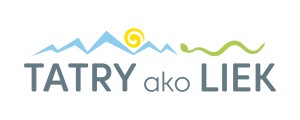 WHY DO THE TATRAS HEAL?
Active relaxation in fresh air is like a healing treatment.
Sunshine and fragrant essential oils can caress your senses in difficult times.
The combination of mountain climate and a physical activity is the best cure.
Plan your trip to the Tatras and discover the beneficial effects of the local climate.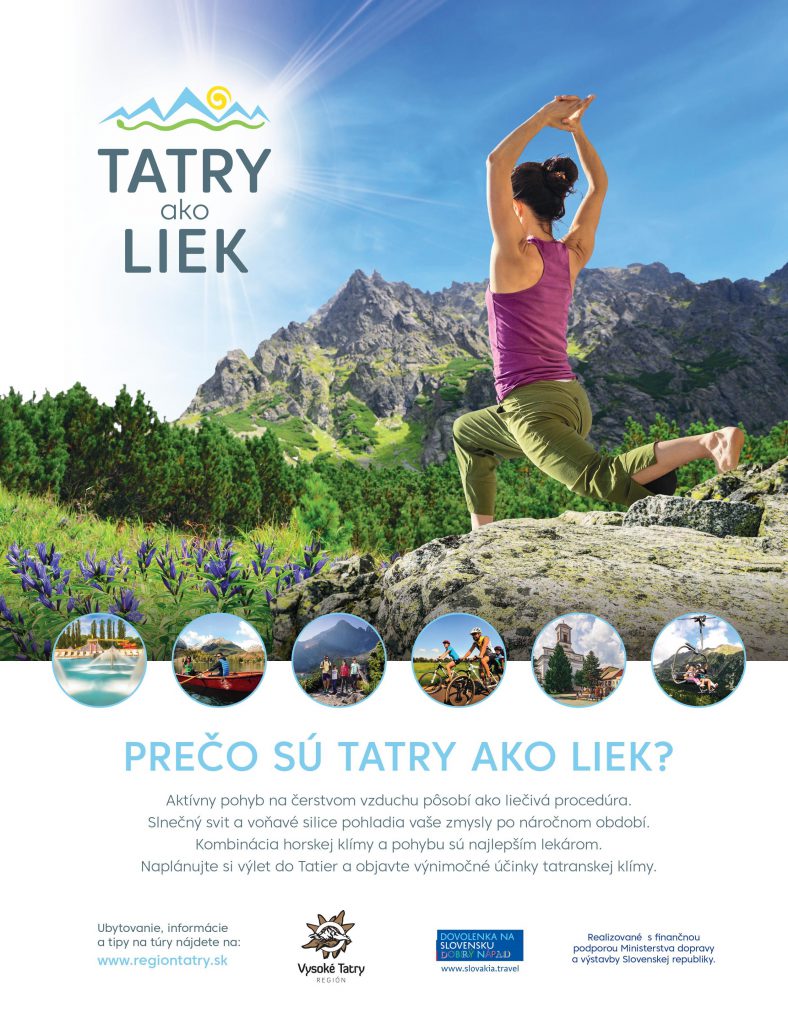 1. HEALTH
AIR, SUN AND HEALTH
Exceptionally clean air, high sunshine values, fragrant essential oils and many other aspects proof the healing effects of this popular destination. Higher altitudes increase the amount of haemoglobin and blood. More sunshine and lower atmospheric pressure result in positive physical changes too. The air is very clean in the Tatras because they are located above the dust and smoke zone, i.e. it is almost free of bacteria and allergens. The region is typical for a lot of sunshine (almost 1,817 hours per year on average) and stronger ultraviolet radiation, which is almost 15 times higher when compared to cities.
As for the atmospheric pressure, or air pressure, this is equal to the weight of a column of air between the respective altitude and the upper atmosphere level. Besides the altitude, the air pressure is influenced by the temperature and air circulation.
TATRA NATIONAL PARK
TANAP was established already in 1949 and is the oldest national park in Slovakia. It is created by a mountain group in the Carpathian arch with the highest peak – Mt Gerlachovský štít (2,655 m). As for Europe, it is a unique fauna and flora protection model in the highest European mountain range located to the north of the Alps. Together with the Polish national parks, the Tatras have been considered a UNESCO biosphere reserve since 1993.
---
2. CLIMATIC THERAPY
COMPLEX THERAPY
The concept of climatic therapy combines the effects of unique mountain climate, clean air and sunshine with staying in fresh air. This means that active climatic therapy uses individual climatic factors such as wind, sun and shadow combined with kinesiotherapy (hiking), sports and outdoor activities and serves as a complex therapy.
CLIMATE
The climate itself is quite stable and is one of permanent physical-geographic features of locations or countries. The skin responds to temperature, mechanical, humidity and electromagnetic stimuli. The respiratory tract mucosa reacts to gaseous components, aerosols and sensory organs process olfactory, acoustic and visual stimuli. In case of a climate change, the organism has to adapt in order to keep the internal environment stable. Climate therapy has been examined also by doctor Szontagh, who found out based on measurements and observations that temperature inversion in winter is typical not only for higher temperatures but also for more sunny days at higher altitudes. What's more, the oxygen tension is reduced, which is related to lower air pressure, lower average temperatures and high ozone levels in the Tatra air.
IDEAL ALTITUDE
This is why the High Tatras offer a variety of ways how to combine nice walks with views of Slovak peaks in a forest embrace with appropriate air humidity and a high concentration of essences. Climate therapy is beneficial mainly if the climate is different than the one that the person mainly lives in. Altitudes between 600 and 2,500 metres are considered to be the most effective.
---
3. SPORT
BODY CHANGES
Our body can adapt to the altitude almost immediately. Studies focused on athletes have shown that the haemoglobin level increases by approximately one percent after a week spend in alpine environment, which improves the physical performance by one to three percent. Higher altitudes increase the haemoglobin level and the amount of blood in general. Increased sunshine causes positive changes in the body as well. The atmospheric pressure in Štrbské Pleso is similar to the one in the Alps at the altitude of 3,000 metres and this may be one of the reasons why athletes from all around the world like training here.
SPORT IN THE HIGH TATRAS
As for winter sports, European Speed Skating Championships were held in Štrbské Pleso in 1900. In 1903, the first sledge track was built in Tatranská Lomnica and the first ski race took place in Tatranská Polianka in 1911. European Championships of 1925 in the High Tatras gave the green light to ice hockey in Slovakia. However, Nordic Skiing World Championships of 1970 were considered the greatest sport event. Today, the High Tatras are still active with ice hockey, football, golf, alpine and cross-country skiing, tennis, volleyball etc.
---
4. WALKS
PATHS AND TRAILS
The High Tatras are full of natural jewels and can undoubtedly heal the body and mind. There are various unique fauna and flora species, protected areas and water bodies. The Tatra National Park is typical for exceptional flora. There is more than 600 km of marked tourist trails and they are ideal for all kinds of visitors. One can find marked forest paths and educational trails for families with kids, less demanding tourists can set out for valleys, more experienced ones can climb accessible peaks, the disabled can use several wheelchair-friendly trails. The main tourist trail in the Tatras (Tatranská magistrála) is the most important and longest marked trail and runs along the whole southern hillside of the High Tatras from Podbanské to Veľké Biele pleso (tarn). It is marked red and is 46.25 km long. It was created in the 1930s and runs along the whole southern side of the Tatras. The highest point reaches the altitude of 2,037 metres. Unique endemic plant species include the buttercup (Ranunculus altitatrensis), eyebright (Euphrasia exaristata) or primrise (Primula halleri subsp. platyphyla).
SUGGESTED WALKS
Around Štrbské pleso (tarn), Štrbské Pleso / Stations of the Cross to Pekná vyhliadka, Starý Smokovec / Jazierka lásky (Lakes of love), Štrbské Pleso / Medvedia lúka (Bear meadow), Tatranská Lomnica / Educational trail of Pramenisko, Tatranská Lomnica / Forest park of Kvetnica, Poprad.
EASY HIKING
Štrbské Pleso – Skok waterfall / Symbolic cemetery at Popradské Pleso / Starý Smokovec – Hrebienok / Štrbské Pleso – Popradské pleso (tarn) / Hrebienok –  Zamkovský's chalet / Tatranská Lesná – Bilík's chalet / Starý Smokovec – Waterfalls of Studený potok (brook) / Tatranská Kotlina – Plesnivec chalet / Tatranská Polianka – Sliezsky dom mountain hotel.
---
5. COVID
SLOVAKIA AND COVID
In total, several tens of thousands of patients have already successfully overcome the disease COVID-19, including in Slovakia. However, more and more people are experiencing persistent health problems and the consequences of the disease, which prevent them from returning to normal life.
POST-COVID SYNDROME
A lot of patients, even those who have experienced a mild disease course, can still feel symptoms even a long time after their recovery – this is the so-called post-covid syndrome. The infection can have various effects on the body and mind especially in the case of older people, but young, vital individuals are no exception either. The most frequent long-term effects include extreme fatigue and weakness, coughing and breathing difficulties, headache, loss of taste and smell, sleeping and memory disorders, exhaustion and limb or chest pain, not to mention mental problems like fear of losing the job, difficulties as for the care of entrusted persons or increasing domestic violence.
SPA TREATMENT OF POST-COVID PATIENTS
It was already at the beginning of the disease spread in 2020 that specialists started to notice the first long-term effects of patients who were recorded to be cured in the statistics.
Many European countries have therefore also started rehabilitation treatment for these patients. In countries with a developed spa industry, this new diagnosis appeared mainly in medical spas.
TREATMENT PLAN
The treatment plan should always correspond with specific problems. In the case of respiratory issues which are most common, breathing gymnastics, inhalations, various exercises and relaxation techniques should be applied. Movement disorders should be treated by using physiotherapy, thermotherapy, electrotherapy, hydrotherapy, massages etc. Slovak spas have quality medical equipment required for all healing treatments at their disposal.
As most of Slovak spa facilities are located away from busy towns, their surroundings are more than suitable to heal. And if we add exceptionally clean air and a good climate, which is the case of the High Tatras for example, this makes perfect recovery conditions.
Belianska jaskyňa (cave) in Tatranská Kotlina is a significant natural monument and the only cave in the High Tatras accessible to the public. It has been visited due the beautiful dripstones since 1882.