There is a developed local transport of slow trains and buses in the region. To get to mountain resorts, one can use the Tatra Electric Railway or a bus from Poprad or a rag railway from Tatranská Štrba, which has a station for fast trains. The Tatry Card – a regional discount card enables you to travel eco-friendly in the High Tatras – with trains of the Railway Company of the Slovak Republic. The card included in hotel packages can be used as a travel ticket.


Tatra electric railways (Tatranské elektrické železnice – TEŽ)
These railways are providing the transportation on the routes Poprad-Tatry – Starý Smokovec – Štrbské Pleso and Starý Smokovec – Tatranská Lomnica. The 15 trams operating in this area are ecological, quiet and able to transport many people.
Cog railway (Ozubnicová železnica – OZ )
This railway is connecting very well-known tourist center and starting point Štrbské Pleso with the station of Štrba. The cog electronic railways is only one of a kind in Slovakia.
ATTENTION!
Railways of the Slovak Republic – will carry out a comprehensive reconstruction of the cogwheel line between the Štrba and Štrbské Pleso railway stations from 6 July 2020 until further notice.

Map of Tatra electric railways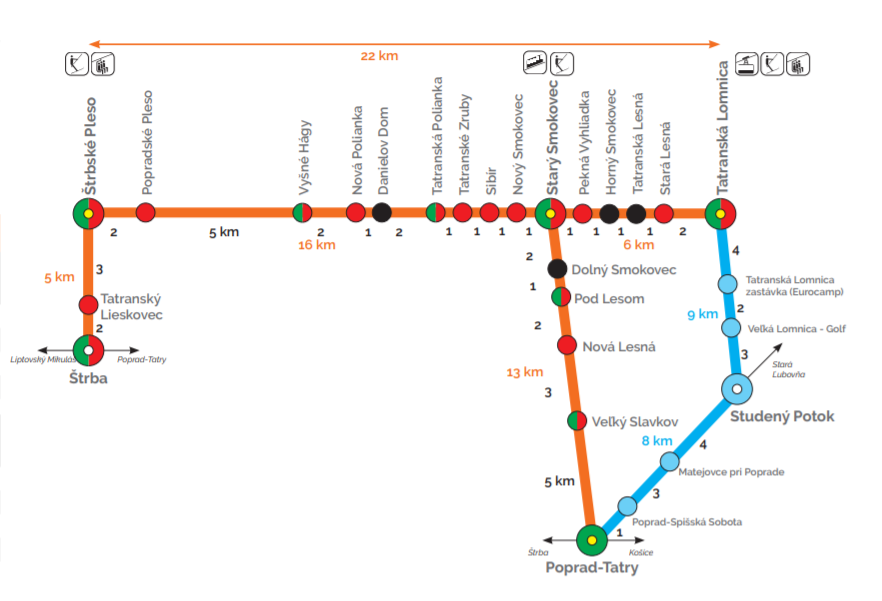 Validating the tickets in the High Tatras
The railways are using the tariff system, with comlete self-service on the routes of the electric railways and cog railway, functioning without the train conductors. It is to a duty of a passenger to validate the ticket in the train right directly after the boarding. In case of an inspection, the passenger without a valid ticket must pay a fine.
Travel with regional card TATRY CARD:
Free-of-charge travel on the Tatra Electric Railways and Cog Railway
You obtain further discounts and benefits on the sport activities, sightseeing (museums), wellness and catering
Timetables:
Poprad-Tatry – Starý Smokovec – Štrbské Pleso a späť
Starý Smokovec – Tatranská Lomnica a späť
Poprad-Tatry – Tatranská Lomnica a späť

If you decide to use individual transport but don´t have your own car, use a taxi service or car rental. Enjoy the comfort of all offered services and become the master of your time.